Advanced plating
Mastering Material Excellence with Advanced Plating
Our advanced new reel-to-reel selective electroplating line – combined with superior metal stamping technology – delivers higher quality components in very large volumes.

This £1.25 million state-of-the-art new plating line (one of eight at our technical facility in Cirencester, Gloucestershire):
So you get reliable components delivered faster. All backed by the reassurance of certified, validated processes. Every time.
And you can get it all from one single-source specialist supplier. This ensures accountability on quality and delivery – and reduces administration. Electronics, automotive, medical and industrial manufacturers depend on Batten & Allen for:
Tin, tin/lead, copper, nickel and precious metals electroplating
Metal components stamping
Assembly of high precision electronic components
Meticulous quality inspections at sub-micron level using lasers, X-rays and microscopes
Engineering design – advanced prototyping and pre-production
Troubleshooting and solving your electronics plating and stamping challenges
Custom components, bespoke solutions – tailored to your precise requirements
Batten & Allen manufactures 5-6 billion components per year; 90% is exported to Europe, North and South America and the Far East. Chinese and Indian companies come to us for high quality at keen prices.

So you are seldom more than a metre away from products manufactured by Batten & Allen. The computer you are using right now to view this webpage probably contains components stamped and plated by us.
Experience the Future of Plating!
Dive into the world of cutting-edge technology and witness our £1.25 million state-of-the-art plating line in action.
Subscribe now to get exclusive access to a behind-the-scenes video tour.
Unlock Exclusive Video Tour
New Advanced Reel-To-Reel Plating Line: HMI-Controlled For High Quality, Faster Production
We custom-designed our new electroplating line to ensure optimum performance and maximum efficiency. The line has eight modules:

Module 1 (two cells) – for cleaning and removing oils and films from the plating strip
Module 2 (two cells) – methanesulphonic acid removes the oxide layer from the surface of the plating strip, preparing it for electroplating
Modules 3, 4, 5 and 6 (three cells) and modules 7 and 8 (two cells) – provide superior quality plating using different metals.
The multiple cells in each module ensure a better plating distribution. Employing a higher number of shorter cells (rather than fewer and longer cells) improves current density – resulting in better quality and faster plating line speeds. Fully adaptable shielding results in more even plating distribution.
High performance pumps deliver more electrolyte solution at each stage of the plating process –increasing solution turnover and increasing plating rates.
The new plating line features Supervisory Control and Data Acquisition (SCADA) system software and hardware that monitors and processes real-time data, interacting directly with sensors, valves and pumps – maintaining efficiency and uptime.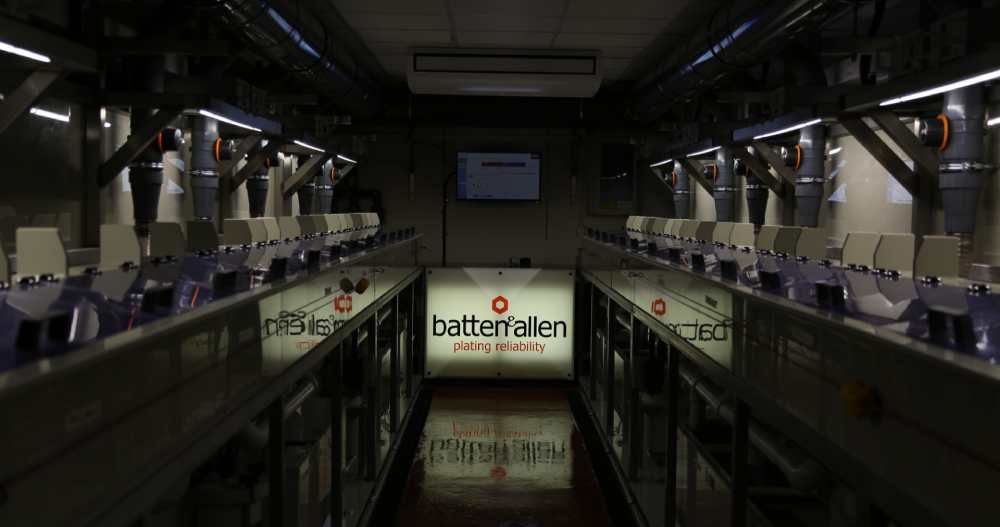 Full HMI control gives the plating line operators complete piping and instrumentation diagram (P&ID) visibility of the plating process – and much greater control. This guarantees consistency of quality. Two HMI panels (21.5" and 31.5") offer easy at-a-glance access to a wealth of data – the lifeblood of advanced 21st century manufacturing.
All this technology is the culmination of decades of experience. Instead of purchasing an off-the-shelf plating line, we custom-designed, configured and commissioned our new electroplating line.
This enabled us to combine the best individual system elements we could source to create a more advanced line. It also saved an estimated £500,000 – a benefit that we can pass on to you through lower prices.
Setting jigs are manufactured in-house and are part number specific to ensure consistency between batches. This means less waste: another cost saving for us and therefore another saving for you too.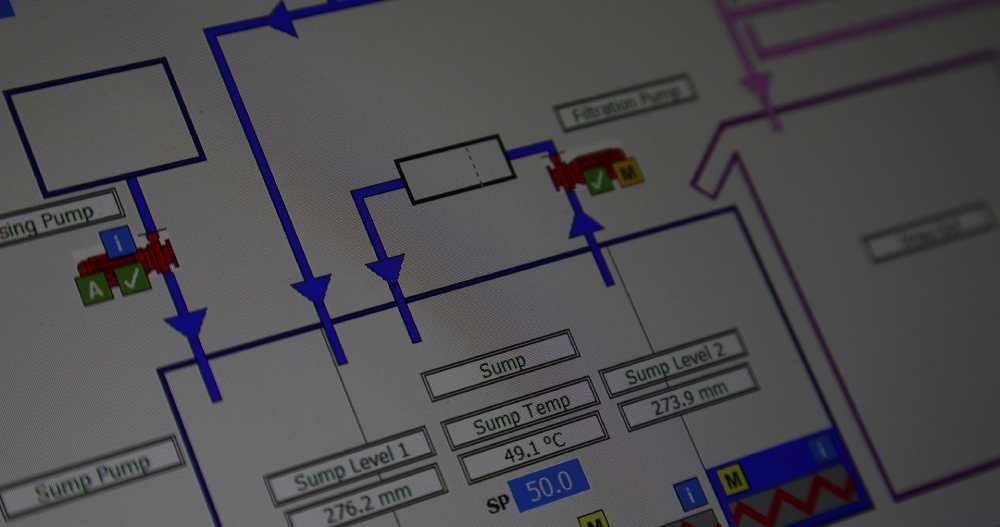 Faster And More Precise Stamping – With Lower Tooling Cost...
High speed, high accuracy stamping ensures you get better quality components – manufactured and delivered quickly to meet your 'just-in-time' requirements.
Discover more about our in-house stamping facility.
More Reliable Tin/Lead Plating In Very High Volumes
Selective electroplating is not new. For years OEMs and their supply chains have benefited from the cost savings that it brings. But now the technology has taken a huge leap forward – improving efficiencies and enabling vastly improved monitoring and control of the electroplating process.
At the heart of the system is software-based programme logic controller (PLC) technology which enables greater productivity and detailed reporting – resulting in optimised operations and greater overall system flexibility.
This enables our engineers to control the plating process more precisely – producing higher quality components with:
Even better product consistency;
Individual product dependability – even at very high volumes.
The new electroplating technology delivers improved quality at 750 parts per minute (6m/min) – up to 3.45 million parts per day.
Together, our eight reel-to-reel electroplating lines provide the extensive capacity required for high-volume contracts.
Services also include precious metal plating. Process control and testing is carried out in a fully-equipped in-house laboratory.
As part of our environmental policy, 100% of wastewater is recycled through an advanced treatment plant. It is tested for copper, nickel, sulphate and other contaminants using a UV spectrophotometer.
Find out more about electroplating of components for the electronics, automotive, medical and industrial markets.
Tin Plating and Precision Stamping Under One Roof
Specifying stamped and plated components from a single-source supplier offers you vital benefits:
Higher quality and improved consistency – one supplier is responsible and accountable for quality (avoiding the problem of separate suppliers blaming each other for NCRs)
Greater efficiencies – ensuring you get better value; higher quality components at keener prices
Faster delivery – by eliminating transportation between suppliers/factories
Less administration – you deal with one reliable supplier, reducing paperwork and the cost of dealing with it.
Most other stamping suppliers can't offer you these benefits because they lack the plating expertise.
News and insights
Everything about the market, Batten & Allen and the services we offer to give you the competitive edge.
Ready to Elevate Your Plating Solutions?
Dive deeper into our advanced plating capabilities and discover how Batten & Allen can revolutionize your component needs.
Let's discuss your specific requirements and tailor the perfect solution for you.